INFORMATION SHEET FOR THE
BONE SCINTIGRAPHY
IT IS MANDATORY THAT YOU BRING YOUR PHYSICIAN'S REQUEST
AND THE APROVAL OF YOUR INSSURANCE COMPANY ALONG WITH YOU
PURPOSE OF THE TEST
To evaluate possible bone alterations.
PREVIOUS PREPARATION
NO prior preparation is required. No gasting i necessary. If you regularly take any medication, you must notify it to our healthcare personnel.
TEST PROCEDURE
A radioactive compound, which does not give any type of reaction, is administered intravenously. You will have to wait 90-120 minutes while this compound sets in the bones. During this time you should drink up to 1 liter of liquid (water, milk …) and you can urinate as many times as you need. Then the bone images are obtained.
TEST DURATION
About 3 hours in total. The detection itself takes about 20-40 minutes.
RECOMMENDATIONS AFTER THE TEST
No complications nor side effects are derived from this test and you coul lead a normal life after it is done.
BRINGING COMPANY
You can bring somebody along with you. This will be required in the case of children or if the status of the pacient requires it.
RESULTS
After the test, our health and/or administrative staff will inform you on what to do to collect its result.
WARNINGS
If you are a woman in childbearing age, in the case that you are pregnant or think that could be so, you must communicate it to our healt staff before the test.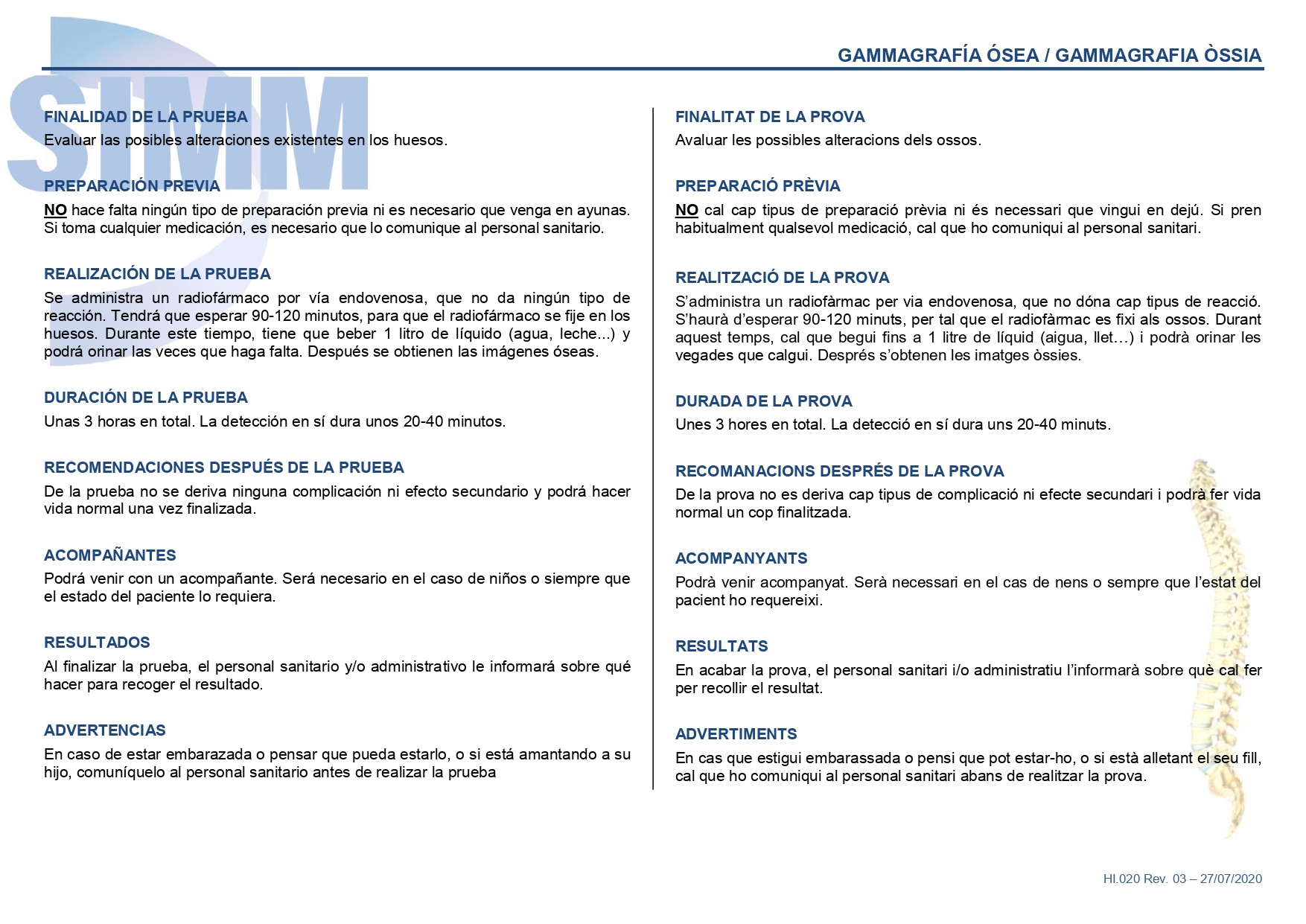 Carrer Josep Irla i Bosch, 5-7, Baixos, Barcelona 08034, Catalunya, Espanya
(+34) 93 204 6439 i (+34) 93 254 0470 ● Fax (+34) 93 204 9641 ● info@simm.barcelona

Carrer Josep Irla i Bosch, 5, Local 2 Baixos, Barcelona 08034, Catalunya, Espanya
Telèfon (+34) 93 204 6439 ● Fax (+34) 93 204 9641
Correu electrònic info@simm.barcelona